Welcome to the Cookeville (Tennessee) Creative Writers Association web site! Cookeville, the home of Tennessee Tech University, is located about half-way between Nashville and Knoxville along Interstate-40, in the middle of the beautiful Cumberland Plateau.

The Cookeville Creative Writers Association was founded in 1982 to meet the needs of Cookeville area writers. The CCWA, which averages forty to fifty regular members from the Upper Cumberland area, encourages members to improve their writing skills and to seek publication. Dues of $10 a year provide funds for our monthly newsletter and other activities.

We meet on the first and third Saturday of each month from 10:00 to 12:00 a.m. at the Putnam County Library in Cookeville, Tennessee. Membership is open to anyone interested in attending. At the meetings we read and critique members' works-in-progress and occassionally have a speaker. The group has written and published six editions of "Town Spring," a biannual anthology of members' works.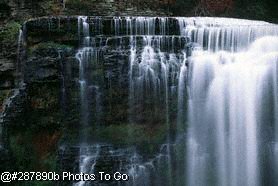 Cookeville is in the heart of a scenic wonderland. Nearby Fall Creek Falls State Park is just one of the reasons you'll enjoy your visit to our 6th Annual Conference on June 16. Come early, stay after, and enjoy beautiful Tennessee.